In just a few weeks from now my bride and I will be taking a cruise to celebrate our 35th wedding anniversary (January 28th, 1978).
Ten years ago our son Joe, made a 25th Wedding Anniversary video for us which he recently converted from a VHS tape to a digital video.
At the time, I had never heard of the song that he used, but as it turned out, he couldn't have chosen a song with a better title, because as you will see below…
I Am The Luckiest.
****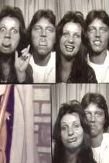 ****